Hey it's us...
the Cookies !
We waited to make sure that you were interested in the content of this website before bothering you, but we would love to be your companions during your visit... Is that OK for you?
Friendly and conversational UIOur beloved
Cookie Widget
You're probably considering adding a Consent Management Platform to your website. Did you ask yourself why? If your primary motivation is to comply with the regulation, think again.
As in the real world, consent is not a matter of law, it's also a matter of user experience and a sign of respect to your visitors. This is why we ditched the boring paragraphs of technical nonsense: we adopted a direct and engaging tone that helps you address your visitors with honesty, and transparency. Our cookie widget is the only one to make them feel truly welcomed.
Consent is the first interaction between you and your visitor, make it count.
Why we use cookies characters?
Even in the most serious companies, it is recommended to smile at your customer (except maybe the funeral services). A browser won't smile for you, especially when it's about privacy. Our friendly characters help create empathy and good will, thus providing a nicer experience.
There's no reason to rush the consent experience.
We also believe in the virtues of waiting. Unless you're doing real time bidding advertising (the ugly flashing ads popping up randomly on sketchy websites), there's no reason to hurry the consent experience. Your analytics solution is capable of handling the hits after a while and even after one or two pages of browsing. Moreover, it will even increase your web performance.
Customization and Design
It's not just about colors
You spend time and money on your design. Why ruin it with a horrendous "one size fits all" cookie banner. At Axeptio, we're designers too, and we know everything should be pixel perfect.
Hey it's us...
the Cookies !
We waited to make sure that you were interested in the content of this website before bothering you, but we would love to be your companions during your visit... Is that OK for you?
Opt-in RateConsent performance
Being compliant, cool, and beautiful is sometimes not enough. Sometimes what you care about is opt-in rate, conversion tracking, and the overall consent performance.
Good to know

If someone's promising you more than 90% opt-in rate, watch your bounce rate closely.
Well, we're quite good at this as well. We won't achieve ridiculous opt-in rates of 95%, because they're meaningless and illegal if you force the consent.
Remember: here you'll find no dark pattern.
How do we manage to get great Opt-In Rates?
Good wording and illustrated characters help break the ice
Our conversational UI inspired by Chat software is not as despised as Cookie Banner UIs are.
Because we integrate nicely in your design, it does not feel like we're interrupting the flow
Having the "consents certified by Axeptio" is a good way to create reassurance.
Do you need help achieving good performance?
Our customer success officers can provide consultation services to help you
We analyze your configuration and provide insights relative to your industry
We can set up a Contextual Consent Wall for you, or work on the overall design of your widget
We make AB tests and track the various changes on a weekly basis until we reach satisfactory results.
Cookie ScannerThe most powerful
Cookie Scanner

. Period.

In case you're unsure of what trackers you run on your website or app, we can help. We developed the most reliable and exhaustive cookie scanner on the market. What's the secret you ask? Simple, we don't only look at cookie names.
Good to know

For many years, cookie scanners have relied on community managed dictionaries of cookie names. But there's one thing you have to know: cookie naming is war. False positives, categorization errors, outdated vendors...
Based on the report, we're able to automatically indicate the level of compliance of your widget configuration. We give you guidelines to improve and make your design less risky depending on your target regulation (CCPA, GDPR) and/or your Data Protection Authority (CNIL, IECL, etc.). Ultimately, we can update your widgets and add the vendors we found in the correct categories.
Contextual Consent Wall
So, you want to block your visitors to get their consent. We're not really into that kind of design, but if you are ready to do it well, we've got the most respectful solution out there.
The concept is quite simple. Instead of blocking the visitor right away, we wait for various events. It can be a scroll on the page or the click on a button. If this happens, we make an overlay that freezes the current navigation and then ask graciously.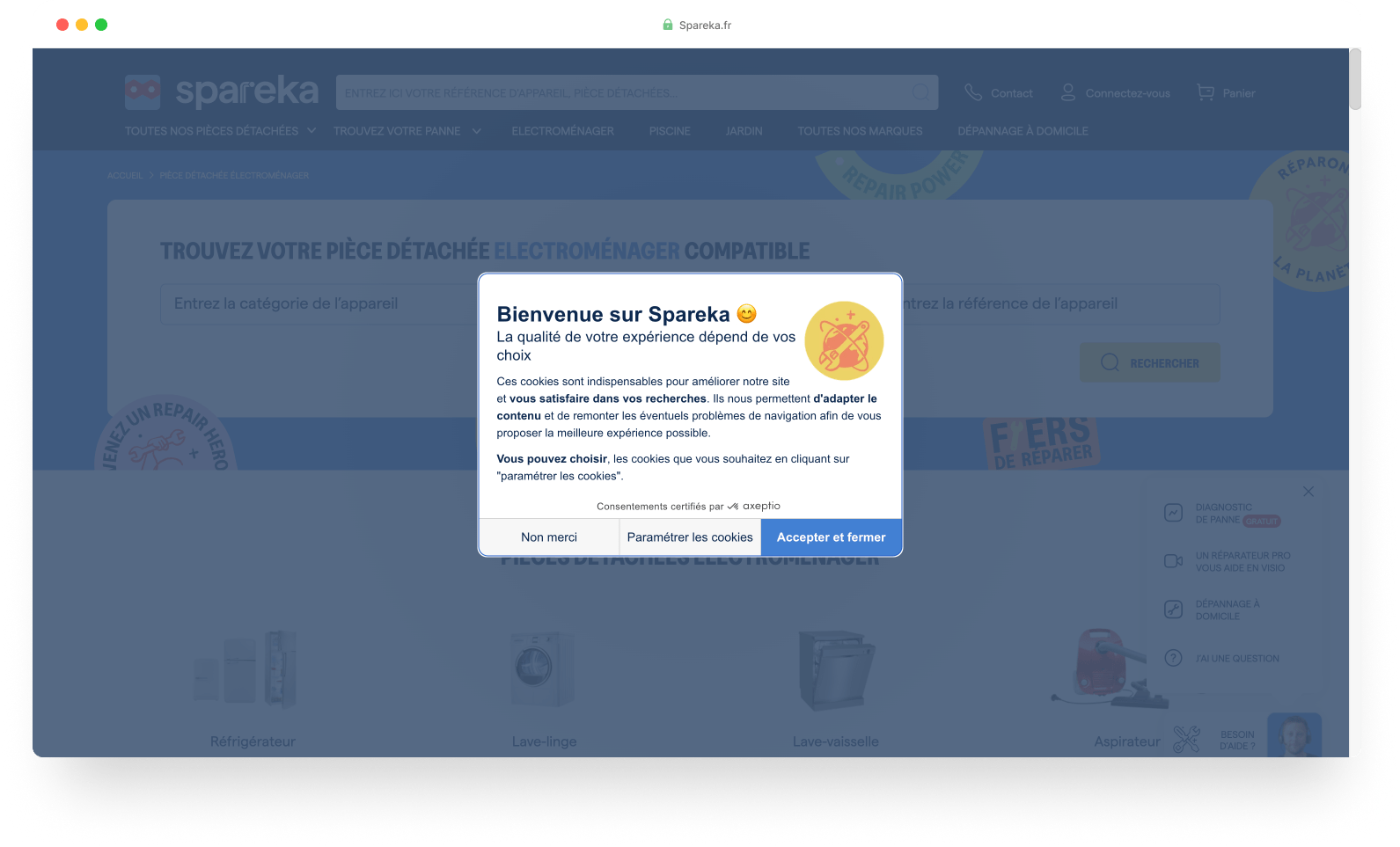 AB Testing
Easily try different versions of a same config and make gradual improvements over time.
Internationalization
In the same way that you can create multiple version to AB test, you're also able to create multiple versions in different languages.
Native Mobile SDKs
We provide native SDKs for both Android and iOS.